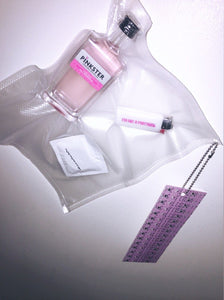 SNOG MY EYEBALLS
Regular price $26.00 Sale
Our best selling, no. 1 vac'pac as voted for by you! (If you're a partygirl, if not then sorry you don't count).
SNOG MY EYEBALLS fully embodies the essence of
#imnotapartygirl
whilst also being handbag friendly.
The ultimate vac'pac with a top tipple, an emergency lighter & emergency condom.
Benefits include: Always being on your partygirl game & looking more stylish than your mates. Not to mention having a first aid kit unlike any other.
Perfect present for your alcoholic bff, your bosses' bday or... yourself.
1 x Pinkster Gin dinkster. Artisan natural gin with fresh raspberries & five botanicals. Ideal for that emergency G&T. Pocket size. (5cl)
1 x Emergency lighter.
1 x Emergency condom for girls who sneak out at night.
Perfect as a gift or for your own afternoon tipple.
100% vegetable plastic.
Complimentary Delivery.
I'M NOT A PARTYGIRL
#IMNOTAPARTYGIRL
@imnotapartygirl